Using the compass of your brand experience from the previous blog, you can now start thinking about the experience you want to give your customers.
Here, you combine what you want your brand to be, with topics that your customers themselves have identified as being key for a top experience.
The crux of customer experience?
Ensuring you know for certain that – in the opinion of your customers (!) – you have discovered the topics that are truly important to them in the customer journeys (not the touchpoints).
And no, those topics will not be found in the open replies to the NPS 'why' question, even if you use smart AI to analyze all the open texts (see my recent NPS blog if you'd like to learn more about this).
Scope of customer experience
So why should we even be discussing the scope of customer experience?
Surely everything is about customer experience (CX)?
Yes, of course we can have that discussion together and of course everything is connected.
In daily practice however, it's useful to not define everything as being CX.
Everyone is drowning in the complexity and/or you become stuck in a territorial discussion.
None of which is useful if you want to get your organization moving towards measurable results.
Let's take another look at the end-to-and journey of an insurance company.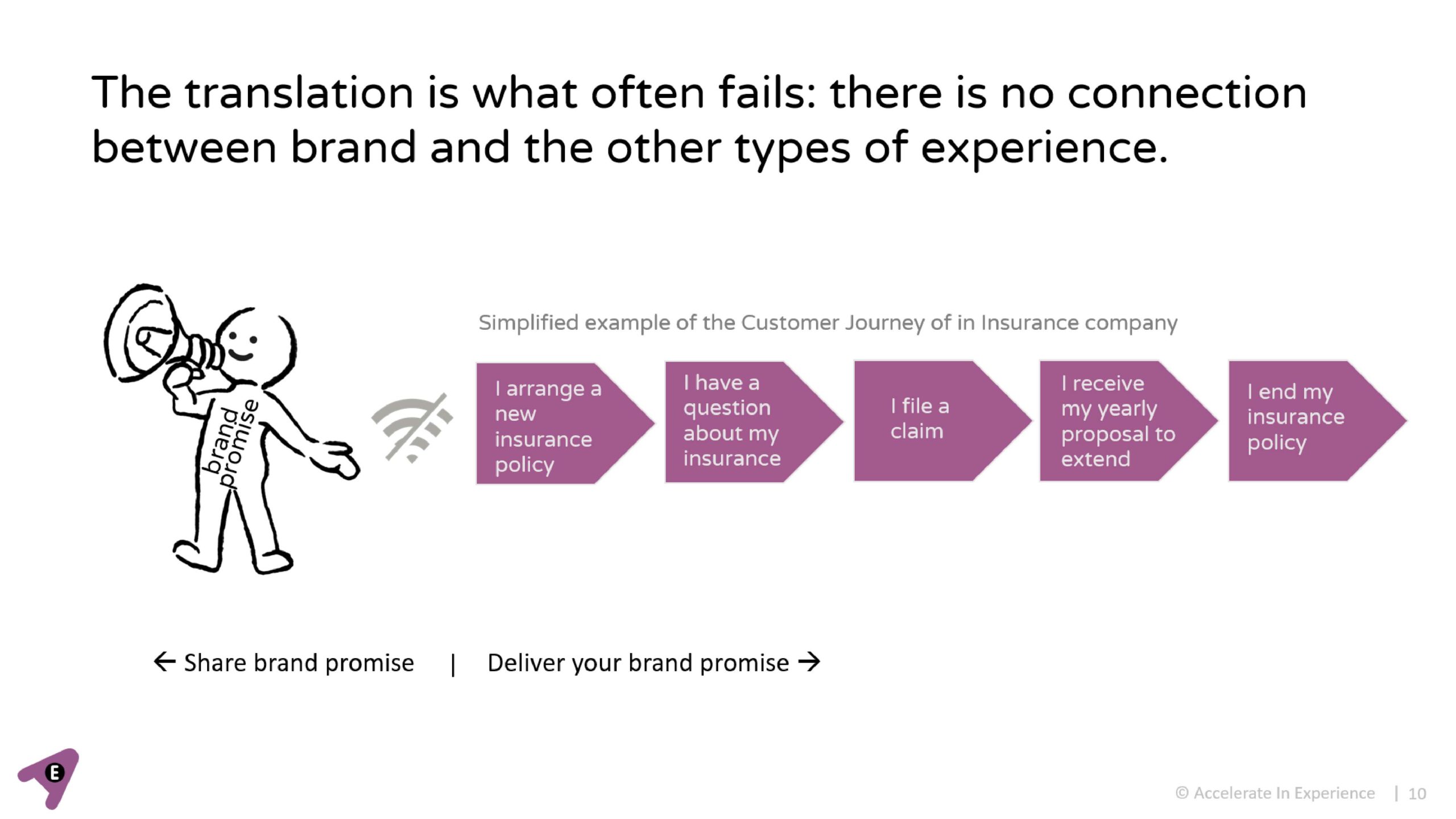 The scope of customer experience runs from the point at which I decide: "I'm going to ING" or "I'm going to Allianz".
How I make that choice, is brand experience.
In this example, the brand must ensure that Allianz is top of mind for me whenever I think about an insurance company.
CX starts from the moment I take that decision and Google Allianz, or I go to the Alliaz website, up until the moment I leave the organization, and all my journeys in between.
Challenges of customer experience
I could draw up a complete list of challenges you'll be faced when it comes to customer experience (see for example this blog with the 5 most common pitfalls / successfactors).
But if I need to focus on 2 challenges for this blog, they would have to be (1) working with journeys instead of touchpoints and (2) finding the right drivers.
This is because these two determine the next steps in your CX program.
Let me start by explaining why journeys are not the same as touchpoints.
Journeys, no not touchpoints
Many organizations measure touchpoints, think in terms of the sales pitch, quotation, my showroom visit, etc.
And many CX tooling parties gather together a number of touchpoints and regard this sum of touchpoints to be the journey.
This perspective cannot work, as I'll show using the following very simple example.
Imagine that I call the contact center and ask them to send me form X.
I can contact them easily, the employee is extremely friendly and promises to take care of it immediately.
When switching to the computer that asks me a few questions immediately after our conversation, I'll give an extremely high score.
However, a few days pass and I haven't received the form yet.
I'm not satisfied with my total journey, but that data will not be available in the touchpoint monitor.
There, we'll only see high scores and everything will seem fine.
Everything seems fine.
The organization still loses a high percentage of customers, or the (cross) sales are disappointing.
This often happens when measuring touchpoints: the scope is too narrow, the measuring moment is to soon after the experience and the wrong questions are asked to really discover what's going wrong.
See also this blog by McKinsey featuring a short and clear video with data showing how journeys are a better choice than touchpoints.
And so you need to make sure you measure the journeys, from the customer's perspective.
Should you never measure touchpoints? You certainly should, but you need to know the purpose of measuring and design the process accordingly, rather than trying to use a 'one size fits all' approach.
I'll come back to that in the following blogs on service and user experience.
The right drivers in the journeys
Okay, so we've arranged journeys instead of touchpoints for customer experience.
Now you'll want to identify the right drivers to make customers happy.
Here too, many organizations struggle to gather the right data to truly arrive at steering information for maximum impact in each journey.
I know, it can be irritating, but why do I keep insisting on finding the right drivers?
Because they too are often lacking, and if the drivers are ineffective, all the next steps in CX will go wrong, because:
You'll be lacking the enthusiasm to participate, requiring you to push and work very hard;
You'll be lacking employee focus, where they can make the difference on a day-to-day basis;
You'll be hampered by delaying assumptions and gut feelings about what customers believe important;
It will be tricky to achieve measurable improvements within 2 to 3 months, because you're not improving those points found most relevant by customers.
Yet the statistics needed to find these latent drivers have been available for years, allowing any organization to quite simply identify them.
However… you will only find the right drivers when applying the right metric to define them.
Metrics of customer experience
As you already know, I classify the Net Promotor Score under brand experience.
In the user experience blog, I explain why the Customer Effort Score is most useful there.
And so that means that I work with satisfaction for customer experience.
This is for the following three reasons:
Satisfaction is the perfect way of discovering the latent, subconscious drivers, with which your improvement points will have directly measurable results;
Satisfaction can be used either for annual measurement of the total experience or for continuous measurement per journey;
Satisfaction – as long as it's 8 or more! – has been scientifically proven, for many years, to be a good predictor of loyalty, which is the reason we're doing all this to start with.
And yes, I know that Harvard once analyzed the CES to be a much better predictor of repeat purchase intention than NPS or C-SAT.
And yes, call me stubborn and I'll agree, I tried to reproduce the analysis on behalf of an insurance company (because I also thought: how fantastic is that CES!).
But the results were totally different: CES scored much worse than NPS and C-SAT (which was subsequently also confirmed in this HBR article dating from 2012).
What's the moral of this story? Context! Each type of experience needs its own type of metric.
Connection to the other types
We have already discussed the connection with brand experience, giving direction together with the drivers you have identified for each journey.
The design principles for the journey are therefore a combination of your brand values and your identified drivers.
Of course, virtually all of your customer journeys will include service and user experience.
Within my journey of submitting and processing of the claim (CX), I may well call customer service about the status (service experience) or I may use the app to submit my claim (user experience).
Without happy employees, there can be no happy customers. Good employee experience is therefore the basis for good customer experience.
To summarize
Based on customer experience, you can constantly monitor the total journey and (detailed) journeys of your customers rather than the individual touchpoints.
You ensure that you find the right drivers for each journey, in order to boost satisfaction to an 8+.
And in order to get the complete organization on board, you also connect the other types of experience in each journey.
Are you still with me? 😉
In the following blog, we'll be zooming in on employee experience!